Zero Waste City
April 2012
The Workshop

The Zero Waste City was a result of a one week lasting workshop. The workshop's topic was Austerity. In small teams we developed solutions for a city of 1.000.000 inhabitants, in which we reduced energy use, water use, land use, money spending, waste production, and working hours to a minimum.

Main design solutions

Zero waste means the city can only have certain products and made from certain material. The materials have to be fully recycled, fully reused or be biodegradable. Therefore the diversity of material is limited to wood, paper or cardboard, glass, metal, wool and plastic. The important factories of the Zero Waste City have to be material production facilities, product facotories, material recycling facilities, and product reuse facilities.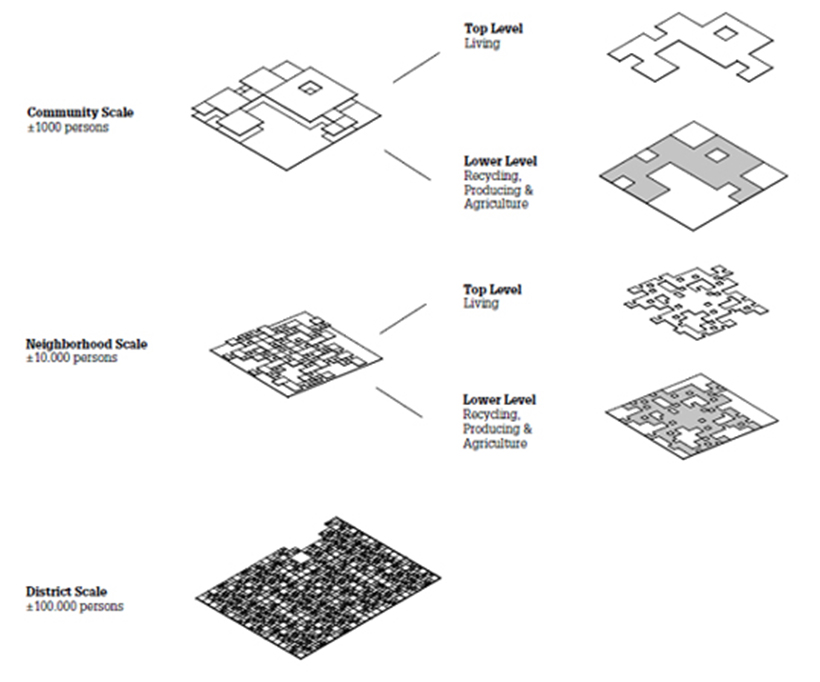 The city has two separate layers, placed on top of each other. The bottom layer is dedicated to all the processes that have to to with growing food, growing material and dealing with waste and production. The top layer is dedicated to living: housing, squares, playgrounds, shops etc... Clearly recognizable are the main transportation routes, formed by the waste collection.

Each of the ten city districts has a different specilisation in the city: forest (wood), paper, water, sheep, organic material, steel, plastic, glass, combined material. Each district has its own corresponding factory of material and products. Buildings in that district should be made of that material. In the metal district, with metal as its specialisation, it is possible to build high rise buildings from steel. In the paper district, it is only possible to build one-story buildings with cardboard. Hence, the cardboard area is a low dense area with more temporary structures.

Integration

The conveyor belts that can transport people through the city are connected to the conveyor belts for waste underground. The heat produced in the lower level factories is used to heat up the buildings. At multiple spots in the city the upper 'living' level is connected to the lower 'waste/grow' level. These connections are emphasised with large entrances.



From top to bottom:
metal district, wood district, sheep district, paper district.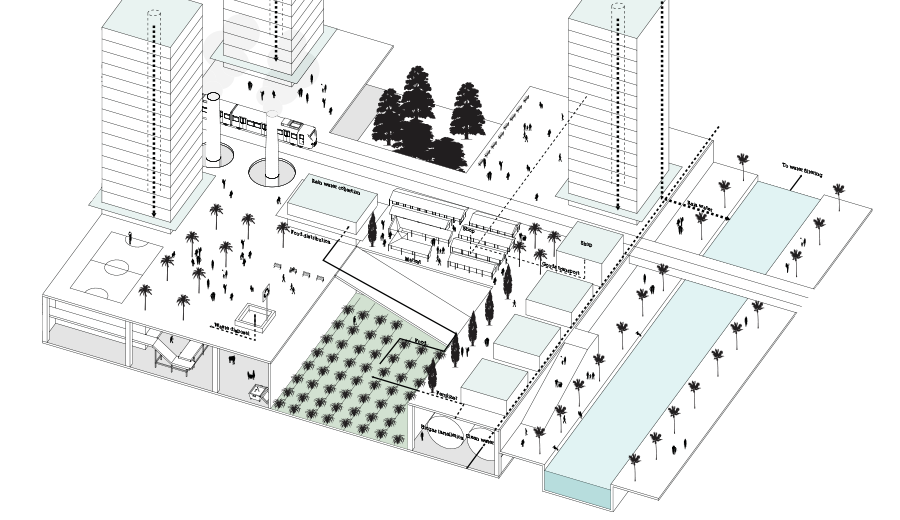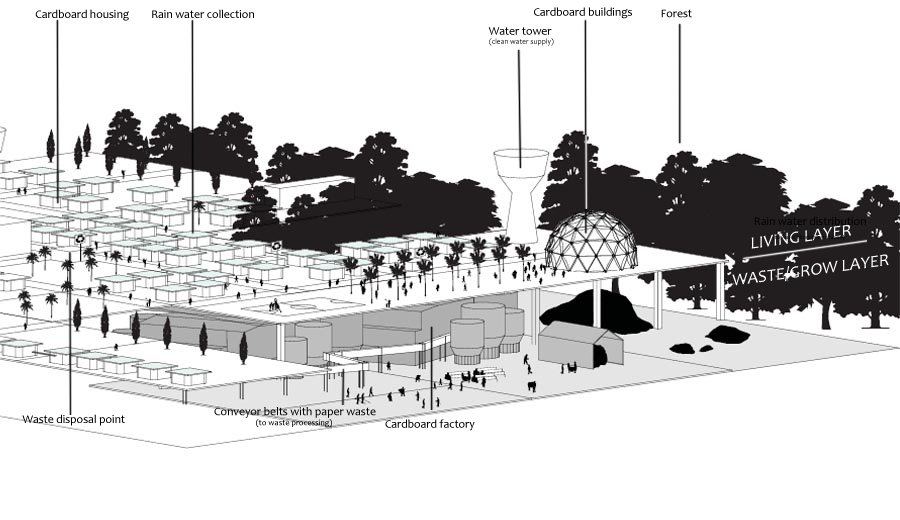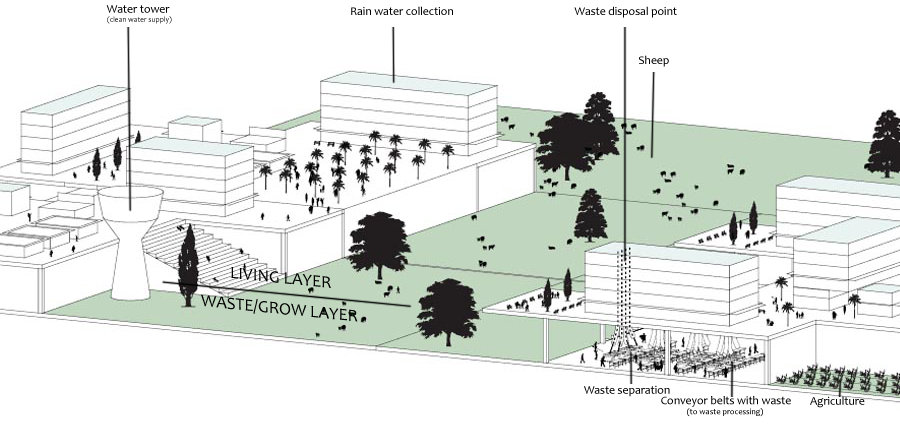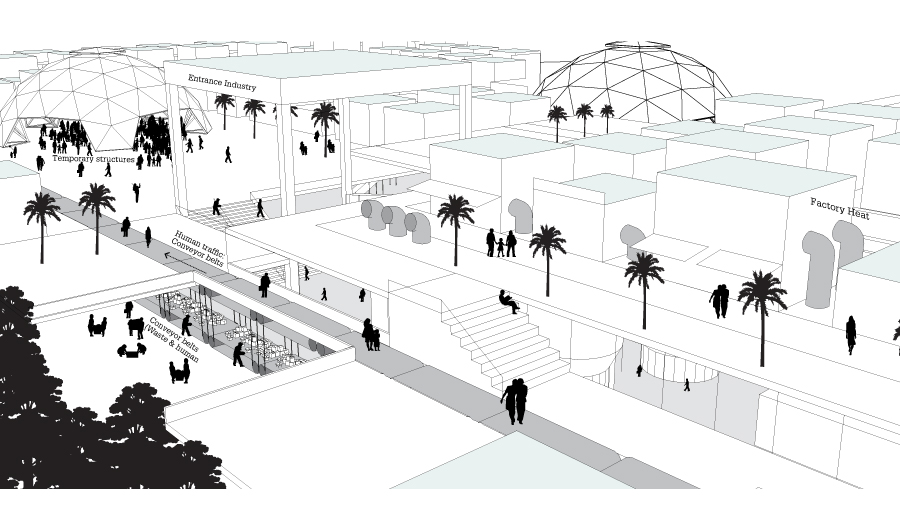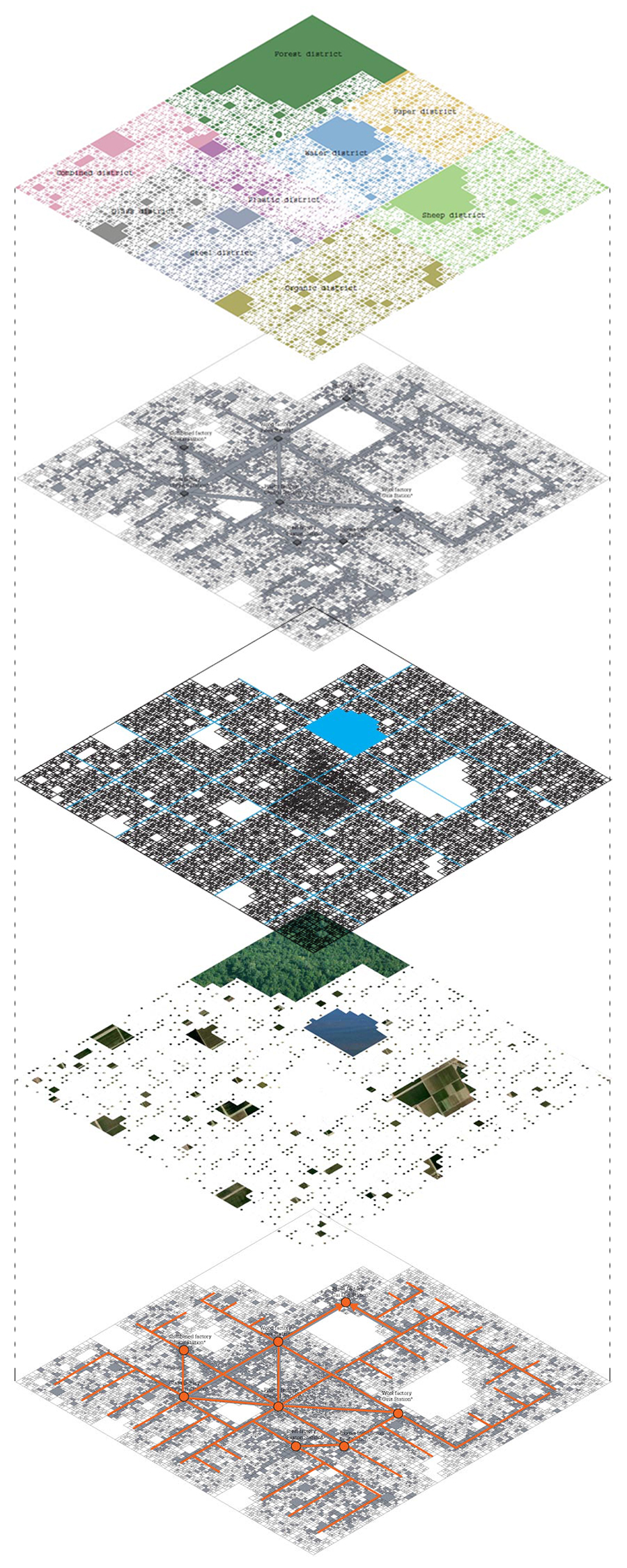 From top to bottom: (1) The districts in the city, (2) city layers, (3) main routes for water transport, (4) areas for growth of trees, sheep and agriculture, (5) main transportation lines for waste.